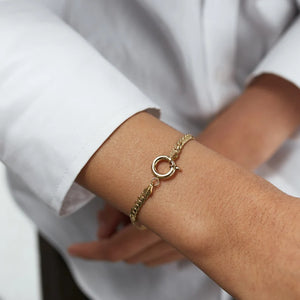 This 14k gold 3.8mm herringbone chain bracelet is the perfect classic must-have piece in every jewelry collection! It looks stunning on its own and is also beautiful for layering with other bracelets, it adds just the right amount of edge to any outfit, and is a timeless item that will last generations!
Materials & Specifications:
- 14K yellow gold
- Chain links are hollow
- Chain width is 3.8mm
- Spring ring clasp closure
Available in 5 different chain lengths: 16cm (6.3 in), 17cm (6.7 in), 18cm (7 in), 19cm (7.5 in) and 20cm (7.9 in). Custom lengths are available upon request. Please contact us for more information.